Specialty Products
ACO Drain is the world's most comprehensive commercial trench drain system.
To allow a complete solution for every application, the ACO Drain brand also encompasses a group of products dedicated to solve problems of a very specific surface drainage issue.
Mouseover or touch the red dot to show Product Features





EcoPanel
EcoPanel is a stormwater trench drain cover constructed from permeable UV stable resin-bonded aggregate in a galvanised steel frame.
The unique combination of a durable load bearing surface enclosed in an engineered frame allows for water infiltration.

Brickslot
Brickslot is a discrete drainage solution for use with brick or stone pavers up to 63mm deep. The 10mm slot blends in with the paving joints giving an aesthetic solution.
The Brickslot cover is typically used on the KlassikDrain K100 channel, but can also be used on the SlabDrain H100K if depth restrictions are a concern. An access unit provides discreet access to the channel or In-line pit for maintenance.

MiniKlassik
Small trench drain systems for regularly foot trafficked balconies or pavements where a discreet barrier is required to separate wet and dry areas.
Grates have been load tested in accordance with AS 3996 guidelines up to Class D (8 tonnes vehicles)
Grated Pits
For use where an existing pavement has been finished with undulating falls for point drainage, or for the collection of concentrated surface water runoff.
Choice of standard and locking grates in 3 styles including Heelsafe

Anti-Slip

'Anti-shunt' lugs
recesses in grate fit around lugs on the edge rail to prevent longitudinal movement.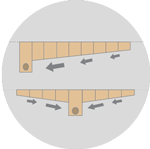 Sloped (0.5%) channel units
meter long units provide 40m continuous slope. This equates to 1/17" fall per linear foot.
Channel identification & system numbering
in addition to channel numbering on sidewalls and base of channel, each end of the channel indicates the number of the channel that will connect to it.

Ductile iron edge rail
integrally cast-in rail provides maximum strength and protection for channel body. Shock absorbing widgets, with M10 stainless steel threads, are fitted in rail to assist with grate fit and aid hanging installation.
Knock-outs
are included on every 5th channel unit to allow vertical evacuation of the system along the run.

Interconnecting end profiles
allow easy and effective joining of channels.